nbsp;
Please go nuts and share as much as you can! Thanks, Billy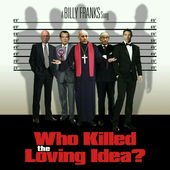 WHAT IS THE LOVING IDEA
Think of a person you love so much that if they were hurt in anyway, you would take the pain for them.
Bring to mind close friends, work colleagues and family and you would surely extend the same thought and feeling to them.
How about the person next to you on the bus, passing you on the street, in line at the supermarket, At least you would hope that no such pain or heartache would befall them, right?
Now bring to mind your worst enemy. One who hates you and all that you stand for. Votes differently, worships a different god.
Could you imagine feeling such love and compassion towards them.
If not, at least consider this. There is someone out there who can and does.
It's not easy but something so powerful never could be.
That's the loving idea.